Catching 14 Inch Baits! How to Catch Big Skipjack on Small Baits
Interested in catching 14 inch baits? In this episode I show you how to catch big skipjack on small baits. I start out with a small jerkbait, nothing. I try a marabou jig and a float rig and I still can't catch anything. Finally I try a Realistic Rig with 2 Gulp Minnows and I start catching fish. I catch a 10 or 11 inch fish and I am happy. But then I catch a big 14 inch skipjack on a 1 inch minnow! This is followed by many more catches but none as big the the fourteen incher. I even catch a largemouth bass today!
If you want to catch big baits like a 14 inch skipjack herring, you can do it on small baits.
4,722 YouTube Views
---
Fall Fishing with Trout Magnets and Gulp Minnows on a Drop Shot Rig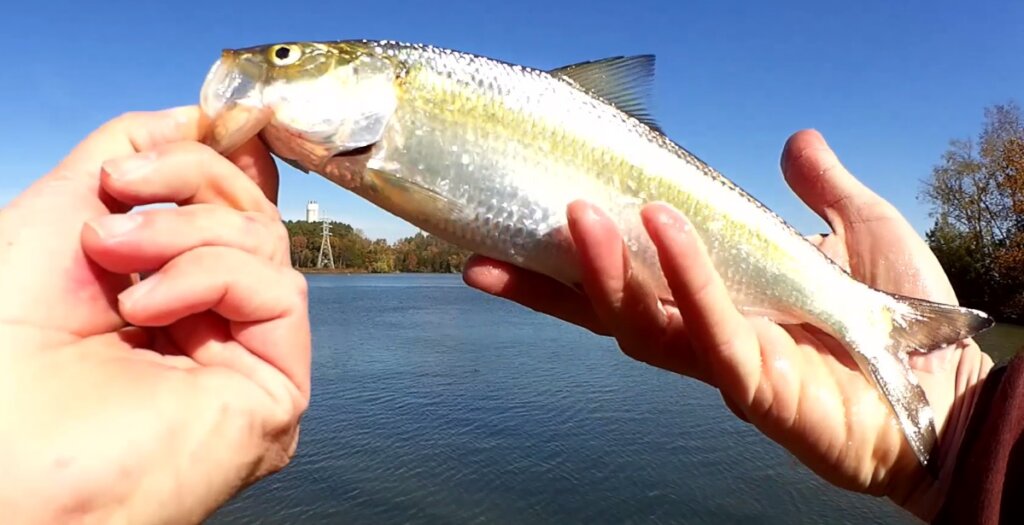 In this episode we're doing some fall fishing with trout magnets & Gulp Minnows on a drop shot rig. The "Realistic" Rig uses cheap bait hooks and pinch on sinkers to cut down on costs. I actually start the day out with a jerkbait hoping for a bass, but coming up short. Next I try the trout magnets with some success. I catch a skipjack herring, and a bluegill. The last combination I try is the Gulp Minnow drop shot and I catch two more skipjack. I catch one fish by the boat launch, and the other near "The Log". If you are struggling this fall, maybe try fishing with trout magnets and gulp minnows uon a drop shot rig.
Check it out in the video below!
17,988 YouTube Views
---
Fall Fishing in Tennessee – Catching Fish on an Artificial Minnow
In the last episode this week: Its a beautiful evening for fall fishing in Tennessee. I am catching fish on an artificial minnow. This is the Salmo Minnow that was made in Poland and sent to the show by generous subscriber RPF. I'm casting in a cramped area down by the log. I manage to catch about 3 fish in about 30 minutes. The weather is cooling off, and the fish still aren't very active so I am happy to catch three. These fish are a popular bait, but I also like to catch them for sport. The jumps are amazing on a fall night fishing here in Tennessee.
See it all in the video below!
5,031 YouTube Views