Bass Fishing with a Soft Plastic Frog & Braided Line (Spinning Reel)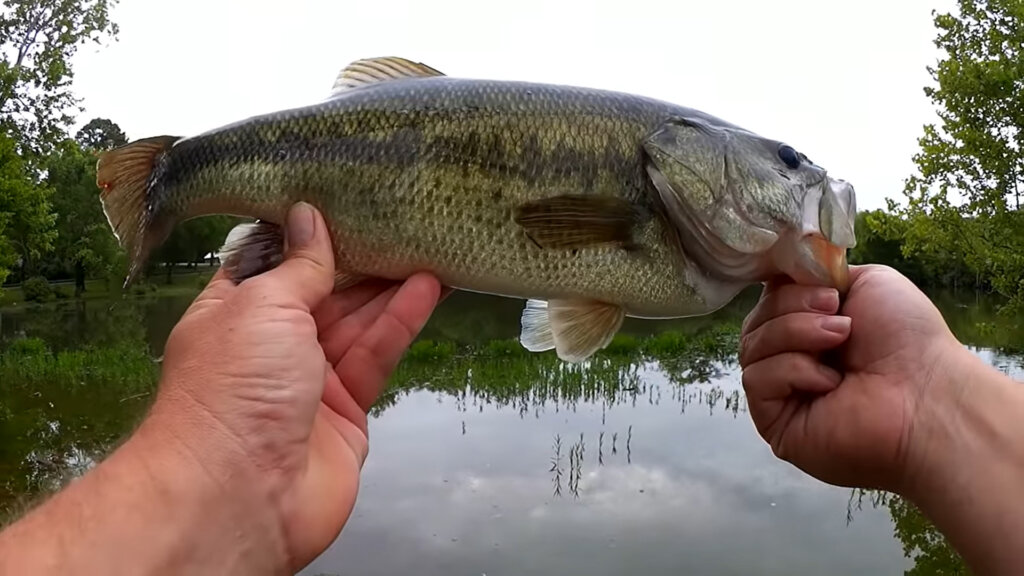 In this episode I'm bass fishing with a soft plastic frog  using braided line on a spinning reel. A soft plastic frog type lure is fished on top by keeping the rod tip high and reeling it in. It can be fished from the bank or from a boat.  I usually like to fish this type of frog near the weeds in shallow water. In this video I end up catching two nice largemouth bass. One of the bass was strong enough to actually bend my hook! Sometimes a smaller frog like this one is less intimidating to a bass than a large hollow body frog type lure, and it can defintely catch those small and mid-sized bass as well.
Check it all out in the video below.
17,440 YouTube Views
---
Quick Texas Rig Fishing Tutorial – How to Catch a Bass On a Texas Rig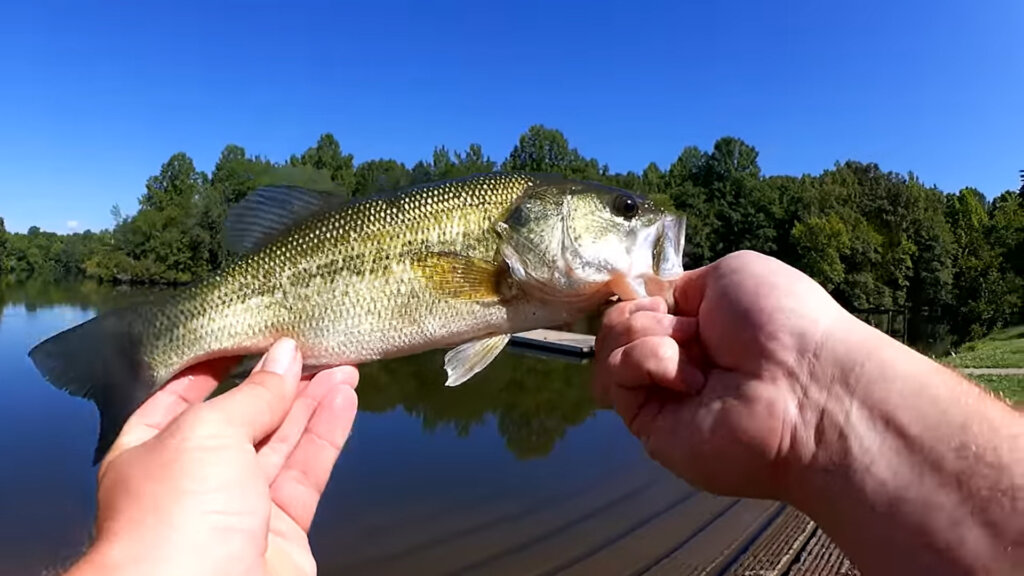 This video is a quick Texas Rig Fishing Tutorial that will show you how to catch a bass on a Texas Rig as I talk my way through catching a bass quickly at the lake. This day found me fishing with a Rage Tail Structure Bug. I'm using 12lb test mono on a medium heavy baitcaster. I was able to quickly catch a bass near the boat ramp by focusing on fishing the structure and shadows. I also end up snagged and I do my best to get it back but in the end I lose a lure. This is a great rig, but its not 100% snag proof. If its hot outside and you just can't get a bite, you could consider trying a Texas rig around cover and shadows.
Watch what happened in the video below.
15,362 YouTube Views
---
Subscriber Lure Challenge! Can I Catch a Bass on the YUM CrawBug?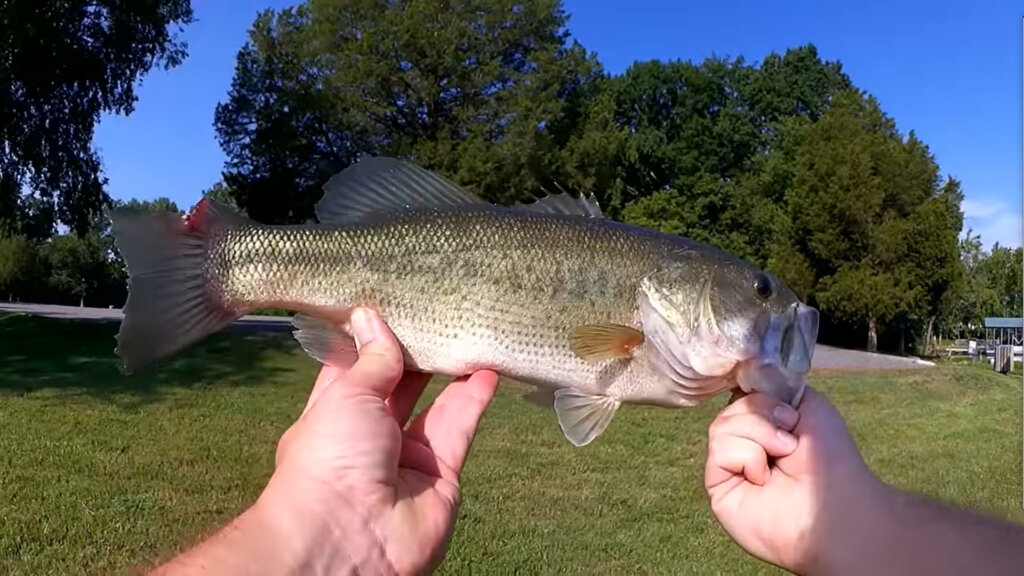 In this episode we see if I can catch a Bass the Yum CrawBug because today's video is a subscriber lure challenge! The fishing lures I'm using were sent to me by a subscriber and in his letter he said that he couldn't catch anything on the YUM Crawbug. He thought if anyone could do it, it would be me. So, here I am off to the lake to try and catch a bass on the Yum Craw. Will I find success and end walking away victorious with a bass in hand? I also try another fishing lure from the subscriber's box. I always have fun fishing with lures sent in by Realistic Fishing subscribers! Thanks again to everyone who sends mail in to the show.
See it all in the video below.
15,678 YouTube Views
---
Big Summer Bass on a Texas Rig Worm – I caught a True Monster Bass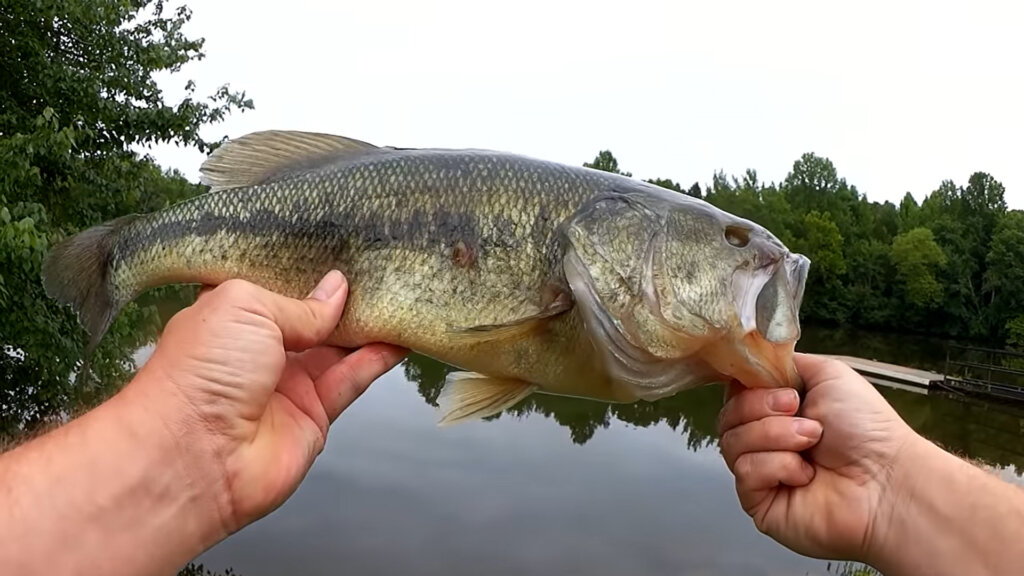 In the final episode this week we see that I caught a BIG summer bass on a Texas Rig Worm! This is truly a real monster bass! The fishing lure of choice in this episode is a Mann's Jelly Worm. Its a soft plastic worm and it is great for a Texas rig. I'm using the Texas rig with a spinning combo and straight braid with a 2/0 ewg. I get my first bass while fishing in the light rain and am happy with it but then, it happens. I get a good bite and end up catching a really big summer bass! This thing is a true monster bass and its even missing an eye! So get out there and try to catch some of your own summer bass, hopefully you can get a monster like this bass beast.
Watch how it all went down in the video below.
23,507 YouTube Views